How Jean Watsons Theory of Human Caring Contributes to Nursing 
The core role of nursing is to provide care to patients, families, and communities to attain a quality of life. Nurses contribute to healing by putting their patients in the best position for recovery. How can a nurse maintain a caring attitude in a stressful and demanding workplace?
Nurses can overcome challenges by turning to theory of human caring Jean Watson. Jean Watson, RN, Ph.D., FAAN, AHN-BC, is an accomplished nurse and educationist. Upholding Watson's theory inspires nurses and contributes to their self-actualization.
Jean Watson asserts that caring increases capabilities and regenerates life energies. According to Watson, caring brings immeasurable benefits and promotes self-actualization. It benefits the patient, nurse, and health team members. Watson emphasizes that nurses must give self-care to themselves to be ready to serve others. Self-healing is vital for rejuvenating energy and replenishing the spiritual bank.
Basics Jean Watsons Theory of Human Caring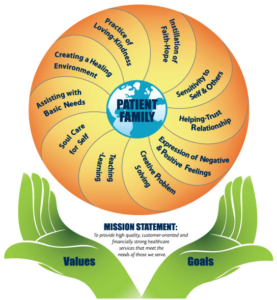 Jean Watsons Theory deals with how nurses provide care to patients. Watson supports a holistic approach is vital in nursing care. According to her, a caring attitude exists in every society but is not transmitted from one generation to another. The nursing profession's culture transmits it to cope with the work environment. According to Jean Watson's theory of human caring, caring promotes growth. A caring setting accepts people in their condition and foresees what they may become.
Watson's theory of human caring consists of the care factors below.
Formation of  humanistic value systems
infusing hope and faith
Developing sensitivity to self and other people
Developing an assisting and trusting relationship
Encouraging conveyance of feelings
Making decision with an intention to solve problems
Promoting teaching and learning
Advancing a supportive environment
Assist with human needs gratification
Accommodation of existential phenomenological forces
The philosophy's foundation for caring is in the first three factors. The other seven develops from that foundation.
Watson ranks needs in the satisfaction of human needs in this order.
Lower order psychophysical need
Lower order biophysical needs
Higher order psychosocial needs
Watson's theory also has these key concepts.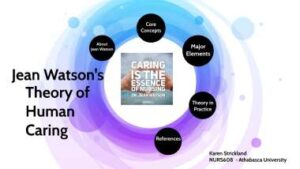 Human being
Health
Nursing
Environment/Society
Dr. jean Watson's theory of human caring defines the human being as a valued person who requires care, respect, assistance, understanding and nurturing. The philosophy considers a person to be a fully integrated and functional being. The philosophy regards a human being to be greater than his or her parts.
Human health includes mental, social and physical functions. It is also general maintenance of daily functions, lack of illness, or actions to prevent occurrence.
Watson' nursing process matches the scientific process by following the steps below.
Assessment: A nurse observes, identifies, reviews a problem, and formulates a hypothesis.
Creation of a care plan: The care plan helps nurses to determine how to examine variables, the data they should collect, and the collection method.
Intervention: Implementation of an organized plan, including the data gathering
Evaluation: Examination of data, interventional results, and result interpretation. Evaluation might necessitate additional hypothesis.
Value of Jean Watsons Theory of Human Caring to Nursing 
Watson's theory creates a general nursing structure that applies to various patients and situations. It places patients in a family, community, and culture perspective. The practice focuses on patients instead of technology.
Jean Watson's theory of human caring is based on the premise that humans cannot be treated as objects or separate from self, others and nature. However, Watson's framework may not cover situations when patient care requires something more structured.
Are you seeking professional nursing writing services online, let us help you. Place an order with us and experience reliable writing help, access Jean Watson theory of human caring pdf .
About Dr. Jean Watson
Dr. Jean Watson is a distinguished professor, a nurse theorist, and the Watson Caring Science Institute, founder. She was born in West Virginia 1940s.
She started studying nursing at Lewis Gale School of Nursing. Watson graduated in 1961 before joining The University of Colorado to further her studies. Watson earned a bachelor's degree in 1964. In 1966, she graduated with a Master's in psychiatric and mental health nursing. In 1973, Watsons got her Ph.D. in education psychology and counseling.
She worked at the university as the Dean of Nursing and became the National League of Nursing President.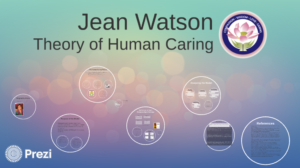 Watson created the Theory of Human Caring from her views on nursing between 1975 and 1979. She created her theory to differentiate nursing from medical science. She found a universal meaning of nursing among all nurses.
It took nine years for the theory to be published in 1988. Watson has over 20 books on caring. Academic programs and clinical nurses all over the world study her books.